Our new recording: you can play a part...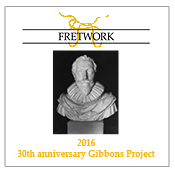 Funding for the new recording of consort anthems by Orlando Gibbons is actively being sought. There are three organisations involved in this project, the Magdalena Consort itself, the viol consort Fretwork and the early brass ensemble His Majestys Sagbutts and Cornetts. Bill Hunt, director and general editor of Fretwork Editions (and formerly himself a player with Fretwork), whose brainchild this project ultimately is, is co-ordinating the fund-raising process.

If you would like to enquire further, please send an email to . Please read our PDF leaflet, 'Gibbons Project Appeal'. It gives the background to this recording, information on the performers, and, should you choose to help us in this endeavour, a Gift Aid form to allow us to benefit further from any donations you might wish to give. Whether you are a lover of music for voices or viols, or if you share our love of this glorious repertoire - one of the great glories of English music - please consider giving towards this special disc.


Download Gibbons Project Appeal