Orlando Gibbons - Consort Anthems:
A project to make the first complete recording of these wonderful works for the appropriate voices and instruments
In November 2016, together with the internationally renowned viol consort Fretwork and the distinguished historical brass ensemble His Majestys Sagbutts and Cornetts, we participate in an exciting project to restore the consort verse anthems of Orlando Gibbons to their rightful place, amongst the greatest creations of English sacred music. They will be performed and recorded for the first time in their entirety.

The performance of verse anthems today conjures up for many the comfortingly familiar sonority of Anglican choir and organ - masterpieces, such as This is the record of John and Behold, thou hast made my days, but performed in a style that is rooted in 19th century choral tradition. One thing we can be sure about is that they must have sounded very different to the audience of Gibbons' time. The very form of the verse anthem, a highly effective fusion of rhetorical declamation and dramatic response, was conceived in the heat of the English Reformation and we want to recapture something of its original urgency.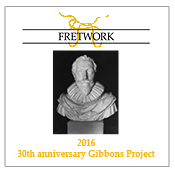 For this project, the Magdalena Consort is expanded to include some of the UK's leading specialist singers: Julia Doyle, Catherine King, Eleanor Minney, Charles Daniels, Jeremy Budd, Samuel Boden, Nicholas Todd, Greg Skidmore, Simon Gallear and Will Gaunt under its director Peter Harvey. With richly contrasting instrumental colours, we aim to reveal the extraordinary poetic power of Gibbons' great music, as it might have been heard in the Chapel Royal and the private domestic chapels of early 17th century England.


See also these web pages devoted to the project:

THE ORLANDO GIBBONS PROJECT
FACEBOOK: Orlando Gibbons Project